3268 Hawthorn Circle
BEAUTIFUL HOME ON TREE LINE!, 3268 Hawthorn Circle
Jackson, MI 49201
Purchase Price

$60,000
1680

sq ft

3

beds

2

baths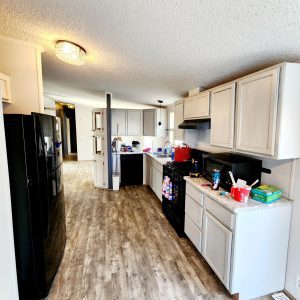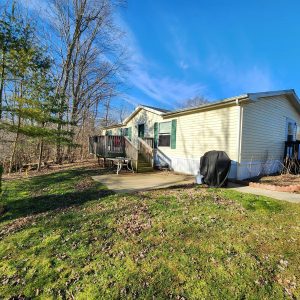 Looking to Purchase? Get this one of a kind beauty today: Before it's gone!
Do not miss your chance to OWN A HOME in Walnut Ridge. Exceptional 3 bedroom home on a prime site available now! This home sits on the corner of the tree line! The outdoor space is impeccable, along with a 10×10 storage shed, central air, and trash removal included. The inside of this home has a beautiful with a spacious Livingroom with stunning windows to allow natural light, perfect for entertaining guest. However, nothing compares to the large amount of cabinet space you've got in this gorgeous kitchen. There is light laminate flooring matching the counter tops, perfectly accenting the black appliances (refrigerator, stove, and dishwasher). This home accommodates for a master bedroom, a walk-in closet, and a attached master bath. There are also two guest bedrooms, with walk in closets, you won't have any trouble storing anything with all of this space.
The Walnut Ridge Community is conveniently located off Parnall Rd and close to U.S 127 to lead you to shopping, dining, entertainment, and recreation. Rod Mills park is located .03 miles from Walnut Ridge where you can go for a scenic walk, take the family sledding or just enjoy some fresh air!
The Walnut Ridge Community amenities include a newly added dog park, an outdoor swimming pool, two community centers (perfect for any event) playground, basketball court, fitness center, community events, and much more. To set an appointment to see this home and our beautiful community, please call
the Walnut Ridge Sales Office at 517-796-1388!!
Call us today to schedule your showing (517) 786-1388
Looking to Purchase? Get this one of a kind beauty today: Before it's gone! Do not miss your chance to OWN A HOME in Walnut Ridge. Exceptional 3 bedroom home on a prime site available now! This home sits on the corner of the tree line! The outdoor space is impeccable, along with a 10×10 storage shed, central air, and trash removal included. The inside of this home has a beautiful with a spacious Livingroom with stunning windows to allow natural light, perfect for entertaining guest. However, nothing compares to the large amount of cabinet space you've got in this gorgeous kitchen. There is light laminate flooring matching the counter tops, perfectly accenting the black appliances (refrigerator, stove, and dishwasher). This home accommodates for a master bedroom, a walk-in closet, and a attached master bath. There are also two guest bedrooms, with walk in closets, you won't have any trouble storing anything with all of this space. The Walnut Ridge Community is conveniently located off Parnall Rd and close to U.S 127 to lead you to shopping, dining, entertainment, and recreation. Rod Mills park is located .03 miles from Walnut Ridge where you can go for a scenic walk, take the family sledding or just enjoy some fresh air! The Walnut Ridge Community amenities include a newly added dog park, an outdoor swimming pool, two community centers (perfect for any event) playground, basketball court, fitness center, community events, and much more. To set an appointment to see this home and our beautiful community, please call the Walnut Ridge Sales Office at 517-796-1388!! Call us today to schedule your showing (517) 786-1388
Shelly Neves
Shelly Neves
Information Center
3999 Sherwood Lakes Blvd. Jackson, MI
Office Hours
Monday

10am – 6pm

Tuesday

10am – 6pm

Wednesday

10am – 6pm

Thursday

10am – 7pm

Friday

10am – 6pm

Saturday

10am – 5pm

Sunday

12pm - 5pm